Look Again Project Space
Look Again animates vacant space in the city with art, design and creative projects. As well as temporary pop ups, we run Look Again Project Space, providing a programme of high quality exhibitions, talks and workshops for the public and the creative sector.
You can find us at:
32 St Andrew Street
Aberdeen
AB25 1JA
Talks + Workshops
During each exhibition we will be holding various talks and workshops which will be free to attend. Visit the 'events' page to find out more and book your place, or head to one of our social media channels.
EMBEDDING
The partnership between Gray's School of Art (Robert Gordon University) and RockRose Energy has been one of unexpected outcomes. By placing students within the work place, and challenging them to respond to the threads that connect the people that make those places what they are, both the students and the employees have reassessed the image of the North Sea oil industry.
Saturday 19 October - Sunday 10 November 2019
Opening Night - Friday 18 October, all welcome.
Open Fri/Sat/Sun 11am-5pm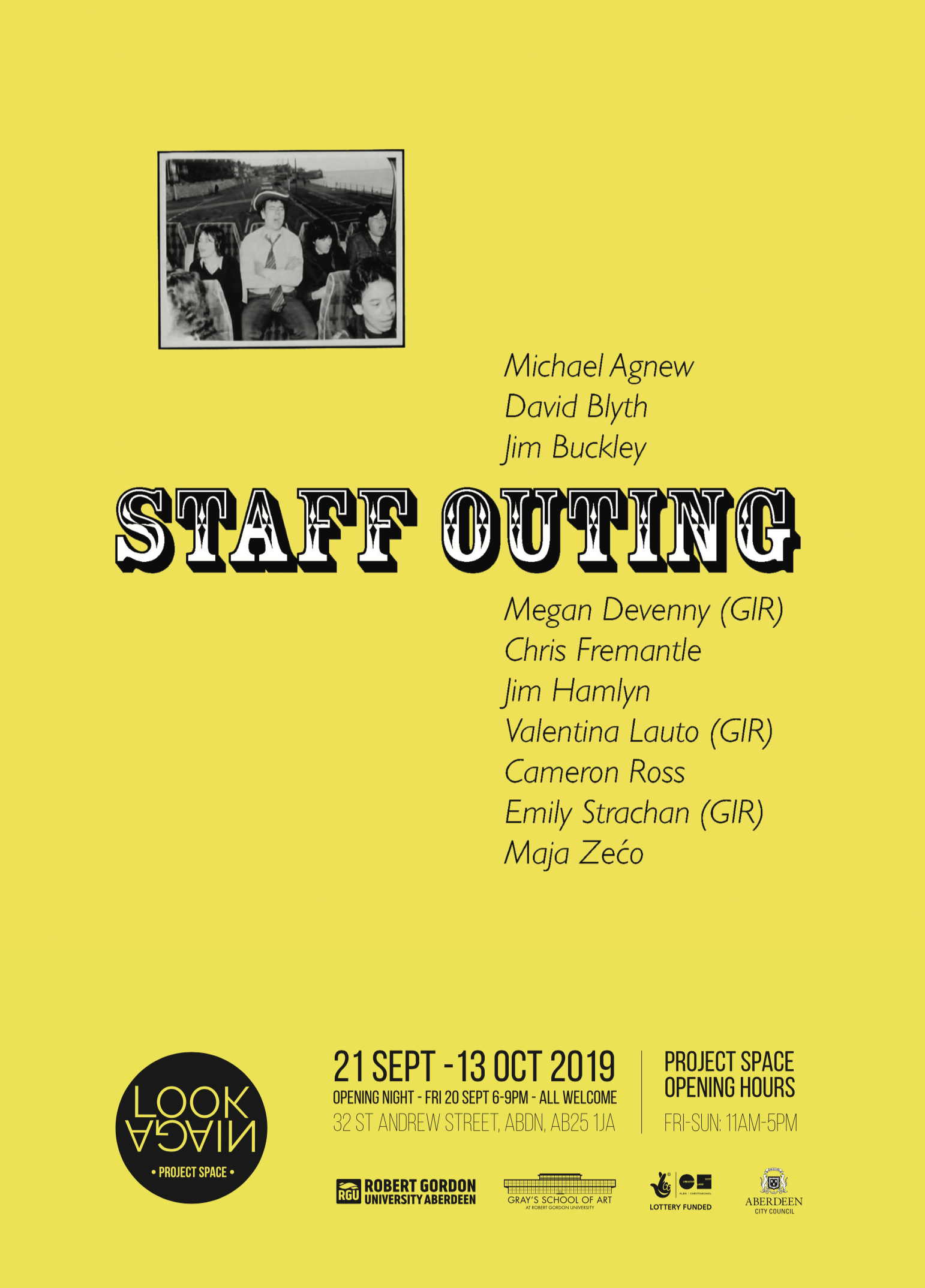 Staff Outing
Contemporary Art Practice // Gray's School of Art
'Staff Outing' was a diverse and timely exhibition showcasing the wide range of expertise within the Gray's School of Art Contemporary Art Practice department.
The exhibition included prints, sculpture and multi-media works, as well as a programme of performances, talks and events. It was a chance for the public to explore the techniques, skills and ideas that underpin the teaching at Gray's and that supports the talented graduates coming out of the school. It was also an opportunity for students to understand more about the professional practice of those who teach them, the exhibition was also used as a learning resource, allowing students to develop a stronger understanding about exhibiting at a professional level.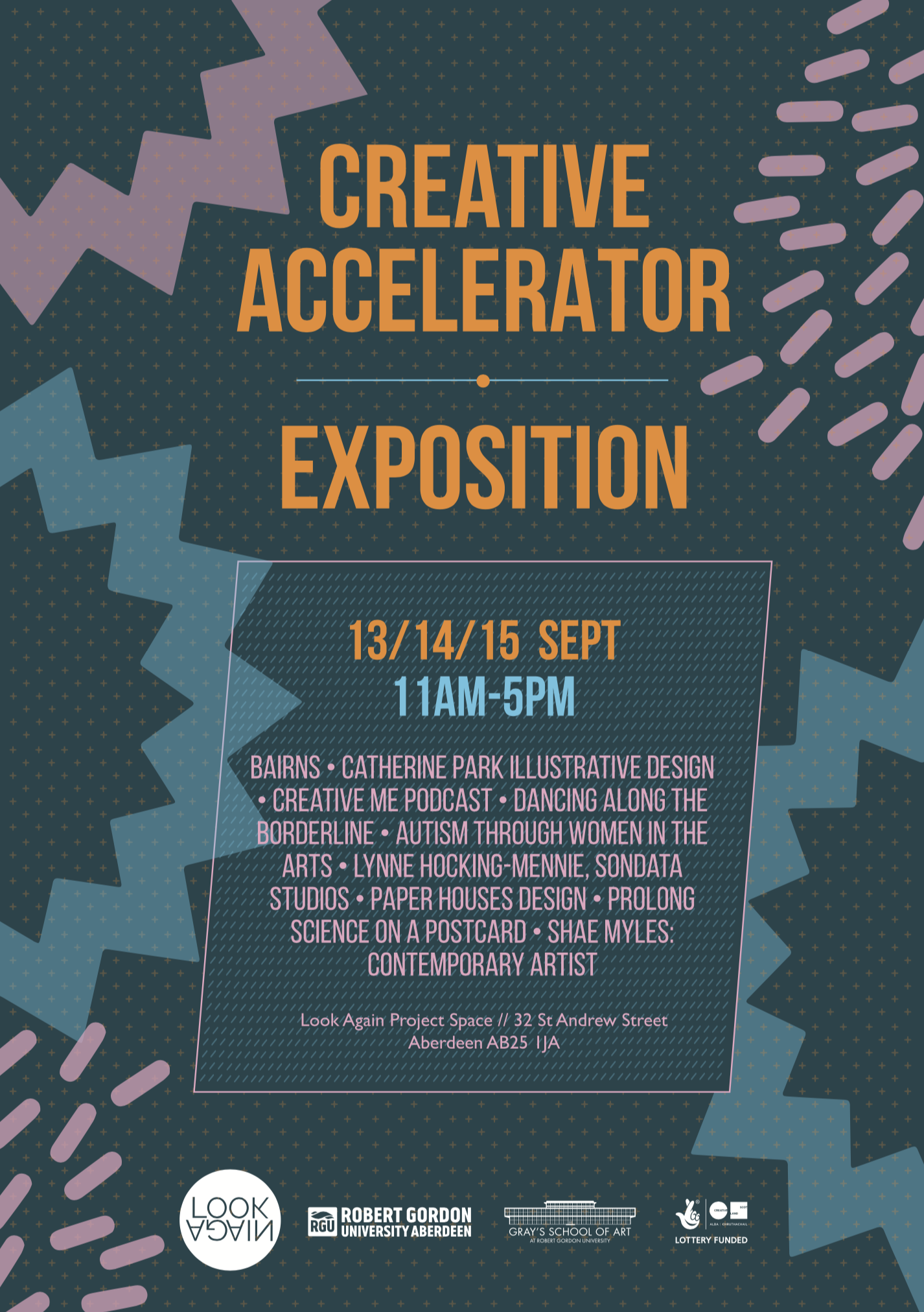 Creative Accelerator // Exposition
The Look Again Creative Accelerator is a 12 week programme of intensive creative business support. Ten ambitious, creative individuals and companies wishing to turn their business ideas into reality or take their existing business to the next level were selected for the programme which began in June 2019.
The Bill Gibb Line
written and performed by Shane Strachan
The Bill Gibb Line was a spoken-word film and exhibition of new narratives across poetry and fashion inspired by the life and work of the Northeast-born fashion designer who was world renowned in the 1970s. Centred around six new poems by writer-performer Shane Strachan, each inspired by a different fashion show across Gibb's illustrious and tumultuous career from the late 60s to the mid-80s.
Supported by filmmaker Graeme Roger of Wildbird, the film featured a spoken word performance by Shane along with new garments created by 3rd-year Fashion and Textiles students at Gray's School of Art, all influenced by Gibb's diverse designs.
The exhibition also featured the poems digitally printed on textiles in the space, alongside a new dress design by Gray's students Beth Coventry and Catherine Macdonald inspired by drawings and pattern cuttings held at Robert Gordon's Art & Heritage Collections for Gibb's final 1985 fashion show, 'The Bronze Age'.
Originally from Bill Gibb's hometown of Fraserburgh, Shane Strachan is a writer and performer based in Aberdeen. His work for both page and stage is concerned with the Northeast's relationship with the wider world, including his work-in-progress novel inspired by Gibb's life and work for which he was awarded a Robert Louis Stevenson Fellowship. He holds a PhD in Creative Writing from the University of Aberdeen.
// PART OF LOOK AGAIN FESTIVAL //
SHUFFLE // facilitated by Lyndsey Gilmour
Launch Night: Friday 3 May // 6 - 8pm - All Welcome!
Exhibition open: 4 - 18 May 2019 (Thu 5-8pm // Fri-Sun 11am-5pm)
This emphasis of this project was on publicly exhibiting a body of research and development that Lyndsey has been working on during the past 18months, in collaboration with performing arts venue The Lemon Tree and volunteer participants from Rosemount Community Centre and Transition Extreme. The project and exhibition was curated and designed by Lyndsey and the work produced has a shared ownership between all 13 participants.
Shuffle expands on Gilmour's broader research interests in the static nature of Painting and the role movement can play in this medium. Previous work has focused on the importance of time within Painting; celebrating the aging process of decay, rot and rust, enabling the image, colour and tonal structure to change over time. As with Theatre, although the structure remains no two viewing experiences are the same. Shuffle continues this exploration through the (de)constructing of the imagery evident in both the changeable and interactive nature of the drawings, a rhythm is introduced through the projected film and the Paintings merely fix compilations of imagery, adding a stillness to the show.
List of Participants:
Sam Begg, Calum Chalmers, Jack Dow, Linzi Harrow, Becky Laird, Naomi Leckie, Owen Livingston, Carol McDonald, Alison Muir, Diane Needler, Freda Still, Dorothy Sutherland, Cora Taylor, Dennis Noble, Helen Watson, Ethan West.
Tendency Towards presents: A Room For A Handshake
Madeleine Hope-Fraser, Jack McCombe & Stephanie Mann
Opening Evening: Sat 30th March, 6-8pm
Exhibition Run: 31 March - 28th April (Thu 5-8pm, Fri - Sun 11am - 5pm)
Tendency Towards presents newly commissioned sculptural, text and sound works by Madeleine Hope-Fraser, Jack McCombe and Stephanie Mann jointly investigating the formation and narration of communal architectures. Considering the role artist-led spaces play in forming local cultural identities, A Room For a Handshake envisages exhibition-making as a framework for supporting artist actions. A programme of activations including a weekly guided library, shared meals, artists workshops and advice sessions delivered jointly by Look Again and Tendency Towards will populate the projects' month long run at Look Again's new city-centre project space.
Madeleine Hope-Fraser, Jack McCombe and Stephanie Mann all investigate materiality, objects, space and thingliness within their practices in multi-disciplinary methods. Covering site-specific installations, sculpture, text, performance and video, their practices are broad and explorative in their approach to exhibitions
Creating work collectively, Hope-Fraser and McCombe both studied at Glasgow School of Art, now based jointly in Toronto and Glasgow; Stephanie Mann is based in Edinburgh, currently participating in the inaugural two-year Talbot Rice Residents Programme.
A Room For a Handshake is a continuation of projects by Tendency Towards investigating the formation, operation and working methods within artist communities, often specifically looking at the emotional labor involved in contemporary collective visual arts practices.
Tendency Towards is an artist-led curatorial initiative based in Aberdeen, comprising of artists Yvette Bathgate, Jessica Barrie, Donald Butler, Paula Buškevica, Mary Gordon & Jake Shepherd. Operating since 2017, Tendency Towards curates public exhibitions, workshops, events, engages in national visual arts conversations and make work collectively.
A Room For a Handshake is curated by Tendency Towards, supported by funds from Aberdeen City Council's Creative Fund and Look Again.
We were delighted to launch our new Look Again Project Space with ORAL SUSPENSION - a collaborative project by Scottish artists David Blyth and Nick Gordon, celebrating Scottish cultural heritage through an investigation of the customs and folk traditions surrounding the Skate, in fishing communities in Aberdeenshire and Orkney.

The exhibition is the product of an ongoing dialogue between Blyth and Gordon, where oral traditions and storytelling inform the development of the work. The artists have met with fishermen, fishmongers and other skateholders (Orkney Skate Trust) who aim to raise public awareness of this critically endangered species.

Building upon the legacy of artists such as Bellany, Ensor and Soutine, this project weaves together multiple forms of knowledge and experience to create a contemporary portrait of this uncanny fish of the North Sea.

David Blyth and Nick Gordon are both graduates of Gray's School of Art, Aberdeen. Their individual practices share a pre-occupation with human-animal relations and with museological approaches in the display and transmission of artifactual information.